Personal Loans
WPCU Low Rate Payoff Loan vs. Credit Card Debt
Life happens and debt can creep up fast.
When unforeseen expenses pop up or everyday spending on a credit card gets out of hand, interest can really start to add up. Choosing the right credit card can be a great way to maximize cashback or travel rewards by using it for your day to day spending.
Often times, consumers are unaware of the interest rate they are paying on their credit cards and how the interest can add up over time. When the debt load becomes overwhelming, it may be time to consider a WPCU low-rate pay off loan to help you pay down the debt and save interest along the way. Who doesn't want more money in their pocket?!
To help you visualize, let's break down the benefits and interest cost for a loan vs. credit card over 5 years.
Loan – A set dollar value with the same payments for the period of the loan, including interest. You know how much you're obligated to pay each payday or month, with a start and end date to the loan. A nice goal to look forward to and a means to celebrate when it's paid!
$25,000 at 5.99% over 5 years = $3,941.06 (approximate)
Credit Card – A revolving balance based on amount owing, monthly payments, and monthly interest and other applicable monthly fees (cash advances, foreign exchange transactions, etc.). Interest is based on the balance and applied monthly. Minimum payments can vary and if only the minimum is paid it can take years to pay off (we're talking 25 years – the same length of time as a mortgage). Points earned can be converted to cash or travel rewards. A win-win for the disciplined borrower.
$25,000 at 19.90% over 5 years = $14,080.23 (approximate) OUCH!
After seeing those staggering numbers, I'm guessing you're telling yourself that it's time to get in contact with one of our knowledgeable Financial Advisors to see how we can help potentially save you thousands of dollars in interest today!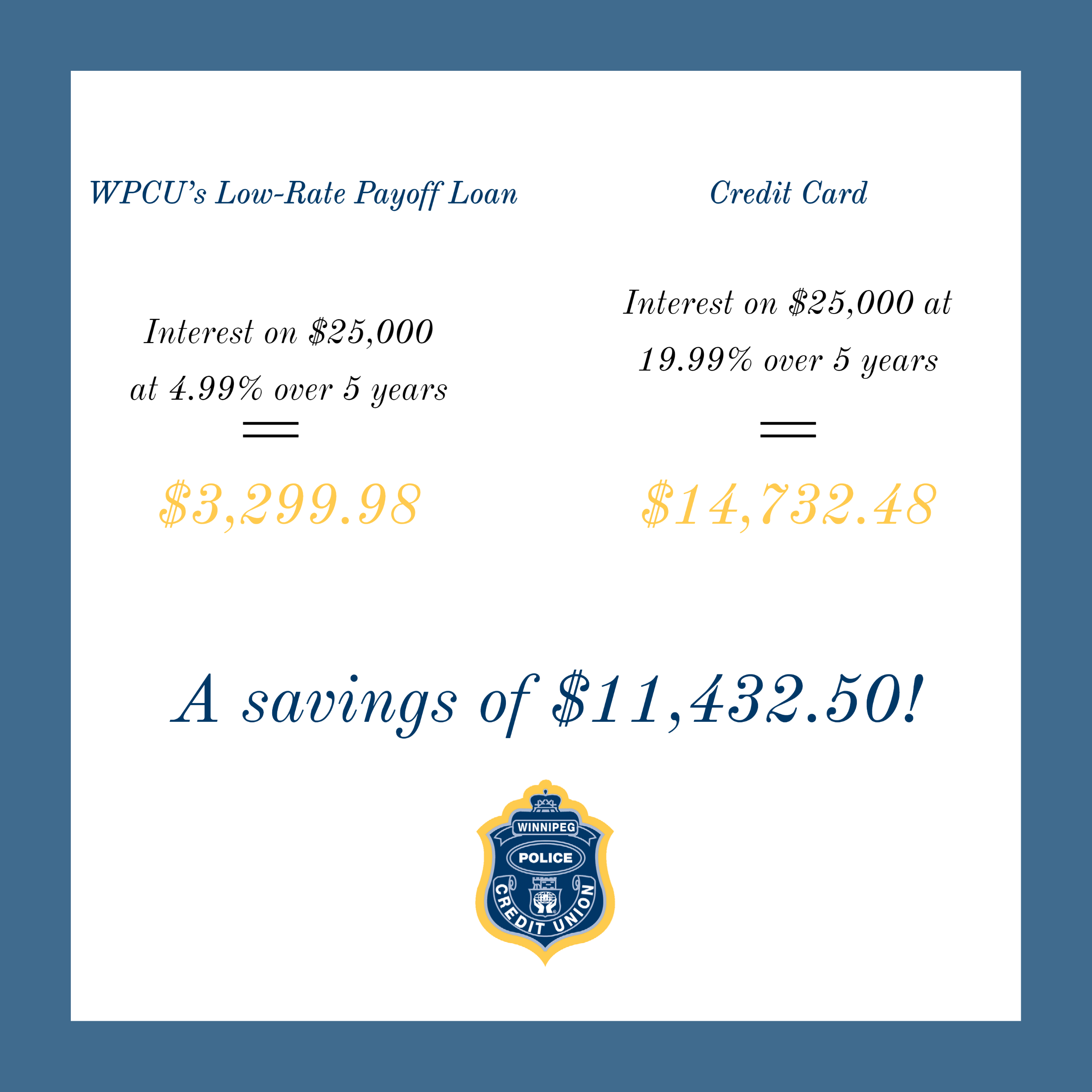 Available Personal Loans
Variable and fixed rate options
Competitive interest rates with flexible repayment terms
Optional loan life insurance available to qualifying borrowers (discount may apply)
Optional disability insurance available to qualifying borrowers (discount may apply)
FREE automatic transfers for your payments
All consumer loans open to prepayment at any time without penalty
Loan activity recorded on monthly account statement helps you monitor your progress
Pre-approved loans for major purchases
Loan Glossary
Loan FAQ
In Debt? Here's How to Get Out of It!